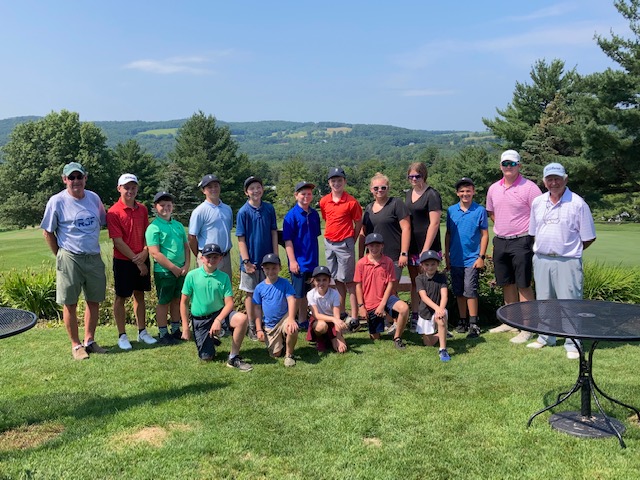 PICTURED FROM LEFT TO RIGHT BACK ROW:
Jamie Jerome-owner, Aiden Fleming, Tucker DeGraff, Mike Plusch, Ian Boyer, Aidyn DeGraff, Alex Shea, Jessica Haynes, Lucy Haynes, Gavin Sprague, Ryan Bloomer and Coach Baratto
PICTURED FROM LEFT TO RIGHT FRONT ROW:
Jack Shea, Henry Briggs, Addison Estey, Silas Phippen, and Riley Estey
Missing from photo: Jamieson West and Trace and Tyler Taber
Last Thursday the final Junior Golf Clinic sponsored by the Hoosick Falls Country Club wrapped up its 8th season.  
Over the course of 6 weeks, a total of 16 juniors attended at various times.  Many skills related to the playing of golf were presented.   It is hoped that the players will take this starting point and build on them as the season winds down.  
The final day culminated with a 3 team scramble.  Prizes, commemorative golf caps, and bag tags, and notebooks were passed out, which summarized the summer golf session.   On order are the HFCC JUNIOR CLINIC GOLF TEE SHIRTS.   I will let you know when they have arrived. 
Golfers were treated to hamburgers and hot dogs as the day wrapped up. 
All involved would like to thank the Jerome family, Bob Pettit, coaches Gary Crucetti, Ryan Bloomer, and student player coach Aiden Fleming and the HFCC ground crew for hosting and providing a fantastic venue for our clinic.  
Looking forward to our 9th junior golf clinic next year!! 
Thanks, Coach Baratto